26. januar 2023
Marketing during tough times
Today's news is dominated by the energy crisis, skyrocketing electricity prices, inflation, high interest rates, war and instability in the world. Many challenging factors have a simultaneous impact on consumers' and businesses' financial situation.
Advertisers need to find a way to get their message across when their target audience wants and needs to prioritize harder than before. Read on for Kobler's tips for marketing during tough times.

Use your marketing budget efficiently

For many advertisers, when financials are weak, it becomes especially important not to waste marketing budget on inefficient exposures. Kobler's advisors can help.
While the cookie death makes the use of third-party data in marketing less precise, Kobler's platform helps you reach consumers who are already interested in your message. This makes the path to purchase intent shorter. As many as 25 percent more people feel that they are in the target group when they get an ad presented contextually1.
Kobler's platform is also completely transparent and gives you as an advertiser full control. You'll see in advance which items will be relevant to your campaign. Once your campaign is running, you'll continuously see all the articles your ads have appeared on. This, of course, in combination with the number of clicks, impressions and media spend. You as an advertiser can feel confident that the marketing means target precisely and create value for your company.
Invest in your brand and in your loyal customer base
During economic downturns, it can be tempting to prioritize conversions and activities that generate sales immediately. However, we want to encourage you not to forget your brand in your pursuit of sales. A strong brand creates loyal customers and provides cheaper advertising in the long run. In many cases, it is also more cost-effective to retain customers than to acquire new ones. Nurture your brand's loyal customer base and provide them with relevant content and offers that they can enjoy and benefit from during a challenging time.
When it comes to forming strong, long-lasting ties with new and existing customers, contextual marketing is helpful. While data-driven advertising often annoys and can give the consumer a negative image of the advertiser2, as many as 33 percent more respond that they become more positive towards the advertiser when the advertisement is placed in context3.
Avoid negative articles – or use them as a reason to speak
Economic downturns are always reflected in the news where negative issues dominate, and new words describing a difficult situation or phenomenon appear all the time. Ny-fattig, krympflasjon, apekopper and kraken are all examples of words that get a lot of attention in Norwegian media. Advertisers should be aware of how the negative media coverage can get in the way of the marketing message. In Kobler's platform, the sensitivity filter is updated immediately when new words are introduced that are not supposed to be associated with a specific brand. Kobler's advisors can help you steer clear of negative news articles or use them in a way that supports your message.
The Norwegian Consumer Council is a good example of an advertiser who has succeeded with the latter. With the help of Kobler they use news stories about high electricity prices to educate consumers about the possibility of comparing prices from different electricity suppliers on their website.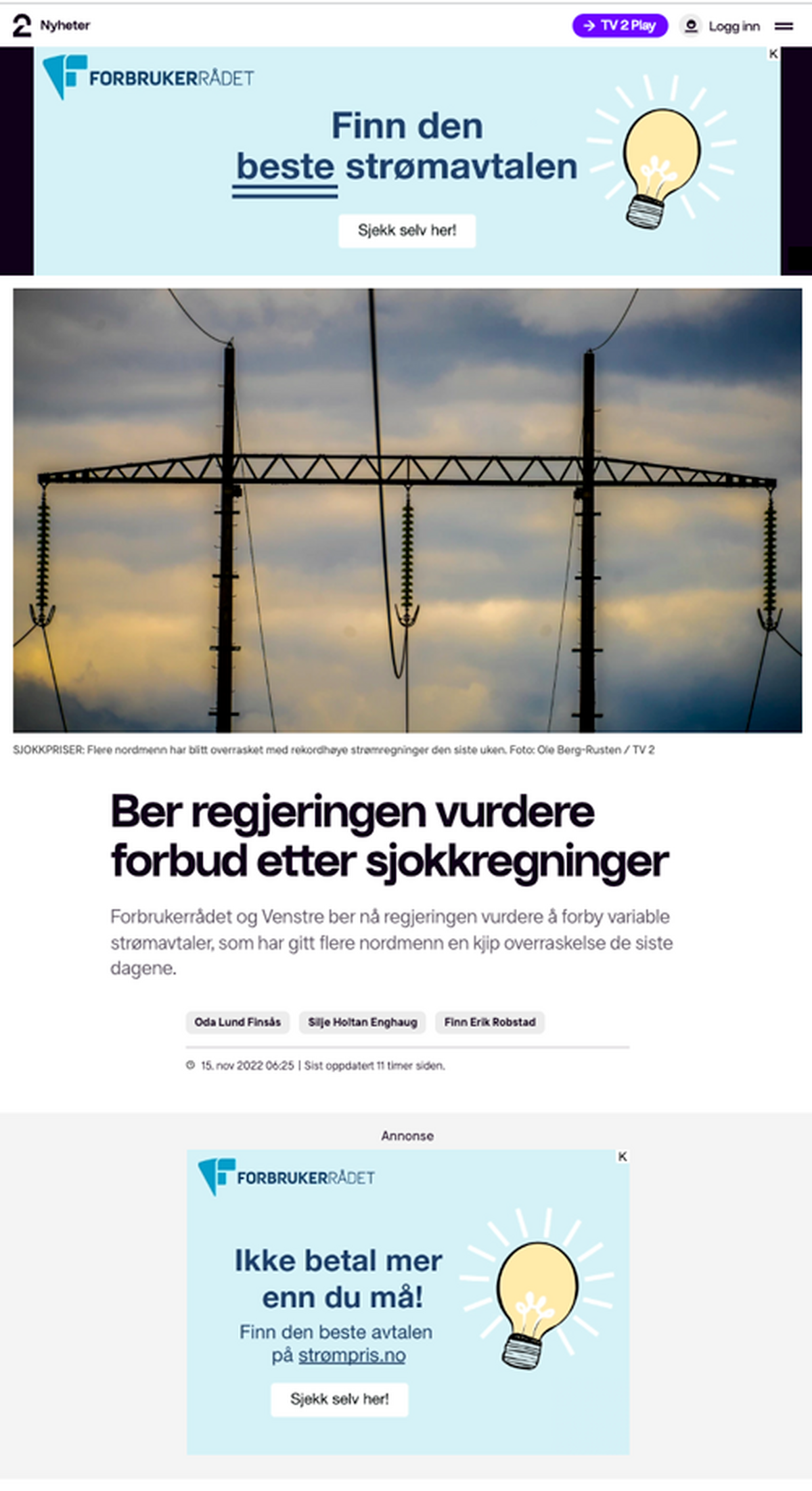 The Norwegian Consumer Council using contextual advertising to reach out and educate consumers.
Similarly, Kobler has helped industry challengers in banking and finance offer low mortgage rates to readers of news stories about increased interest rates. Similarly, advertisers in the grocery industry have used Kobler's platform to inform about price-caps for popular foods on news stories about increased grocery prices. Telecom challenger ICE have used news stories about high grocery prices to remind consumers that they can save money on mobile subscriptions.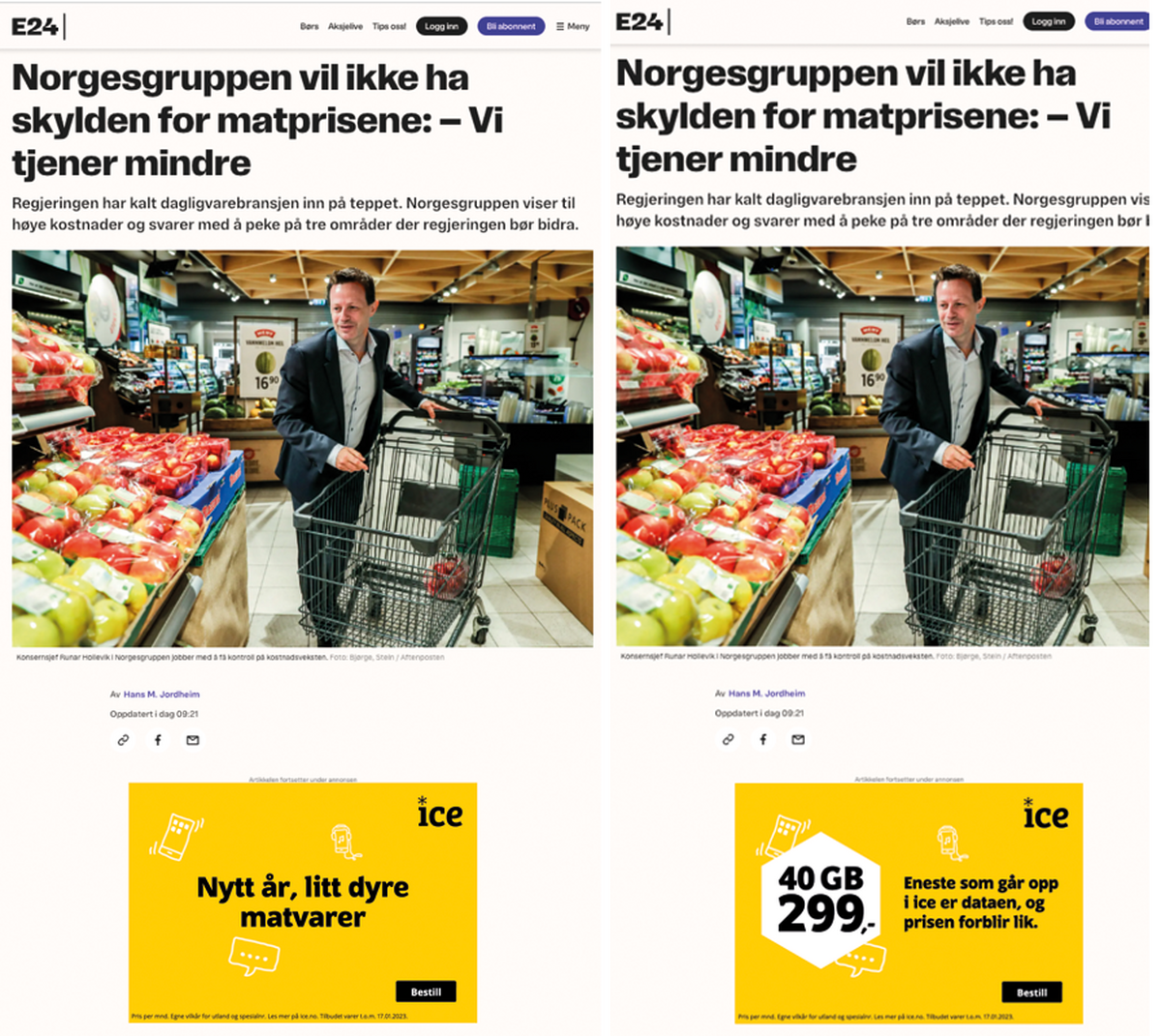 ICE using news stories about high grocery prices to reach out to costumers.
Finally, we would like to share the encouraging results from Anfo's most recent poll4, which suggest a slight optimism in the industry. The poll shows that many advertisers have a brighter perspective on the future now than they did a few months ago. While the poll in August showed that 84 percent feared a deterioration in the Norwegian economy over the next 12 months, 62 percent believe the same now in January. Similarly, 23 per cent now believe that the Norwegian economy will improve, compared with 5 per cent in August. The same development applies to expectations concerning the finances of one's own business.
Whatever the future holds, your business is stronger when you make good marketing choices. We would like to assist with our experience and tailor-made solution for contextual marketing.
Sources:
1) Survey by YouGov and the Advertisers Association commissioned by Kobler.
2) University of Southeast Norway, 2022
3) Survey of YouGov and the Advertisers Association commissioned by Kobler.
4) Anfo, 2023

Do you want to know more about contextual marketing?
Contact us, and we'll help you get started!

Kobler
matches ads
with content
Do you have questions? Wonder how to start using contextual marketing? Contact one of our advisers!